Jamaica Pavilion
Where premium vacation luxury and comfort meets ultimate privacy and personalization.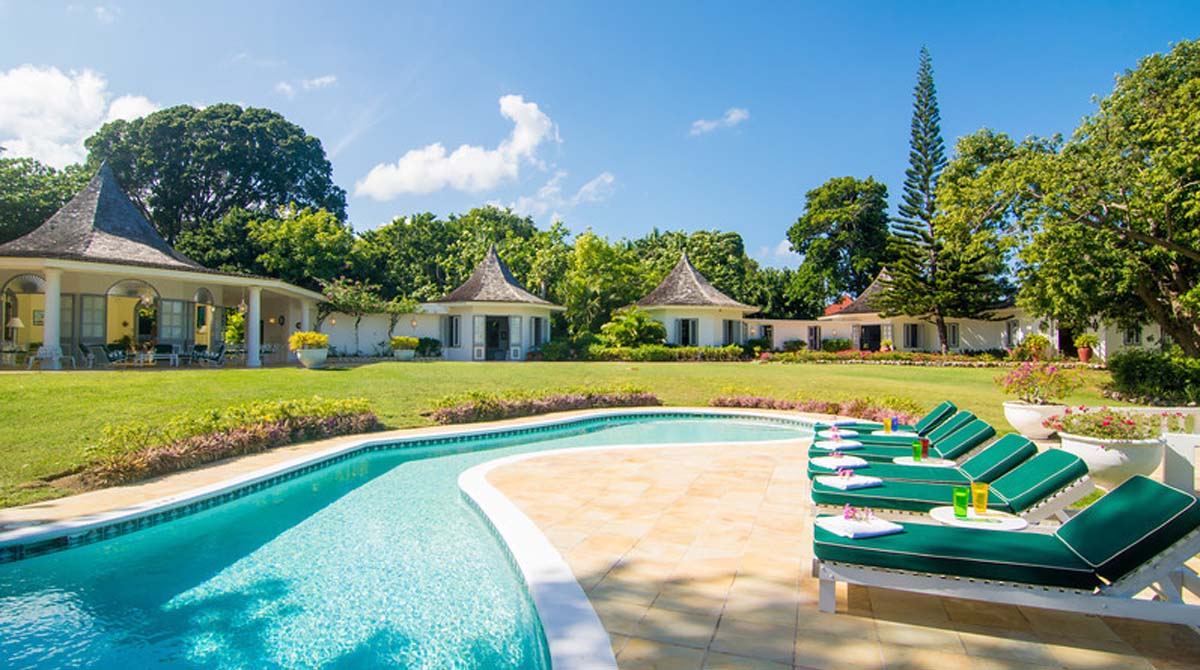 Family-Owned Vacation Property Since 1987
In the 1960s, the late John Rollins, one of America's most successful business entrepreneurs, fell in love with Jamaica and bought the original 7,000 acres Rose Hall Plantation with its pristine land, majestic mountainside to alluring sea. As part of Mr. Rollins vision, he created the Spring Farm Community and in 1970 he handpicked the lots that comprise the Pavilion for his good friend Dr. J. Ted Jean from St. Louis.
In 1987 the Lemmon family purchased the property from Dr. Jean and has maintained and improved the beautiful setting which has views of the hills on one side and views of the Caribbean on the other side. The Pavilion has been described as a house without walls as the architecture incorporates the natural beauty of Jamaica. Each bungalow is an independent living space for privacy and there is a common area where people can gather.
Explore the Villa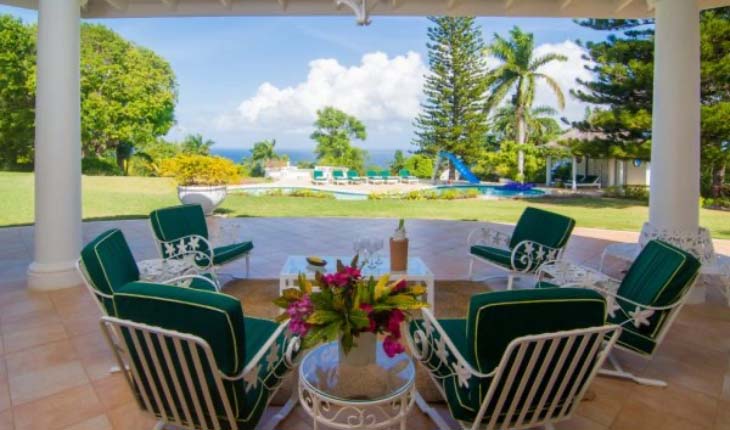 Why choose The Pavilion for your next vacation?
The Pavilion is an entirely private villa to be enjoyed by you and your guests. Think of it as a private hotel that offers a personal chef, butler, laundress, housekeeper, driver, and gardener exclusively for your group. We take pampering to the next level and aim to make you feel at home in our luxuriant, 5-bedroom villa tucked away in the rolling hills of Montego Bay.
Wow! What a great vacation! Special thanks to Iona, Glenford, Sandra and Annette for taking such good care of us. Three generations, fourteen guests and a million laughs and smiles. Thank you, thank you for this spectacular place.
There's not enough space to say how wonderful our week has been here in this beautiful house with our children and grandchildren – taken care of, indulged, in many ways. The outstanding staff – Iona, Glenford, Sandra – make such a difference. I've never seen anything like it!
Incredible! We had a marvelous time! Thanks to Iona, Glenford, Sandra, Trevor, Annette and the rest for great food, service and all the rest! (& Trevor for transport!) This is a perfect place – heaven-like! An unforgettable vacation for sure!
Thank you, thank you, thank you! What a wonderfully relaxing few days – so relaxing I feel that I've been here for a week…so many delicious meals, clean laundry and beautiful views – what more could you ask for? Such a welcoming group of people that work here, thank you for making us feel at home. And of course, another special time with lifetime friends.
What an amazing place! My wife has been coming for years but this was my first introduction to this very special place. Beautiful views, luxurious furnishings and really incredible food! I have never felt so relaxed and pampered. Thank you so much!
It's been 15 years since the Settle clan was together here and although we've gotten older, Pavilion has gotten better with age! Thanks to the great staff for keeping us well fed, watered and wonderfully clean clothes. Loved the Half Moon caddies, mornings at the beach, crazy day in Negril, and listening to the music at night.
The Pavilion is an absolute paradise, our best vacation ever, made extra special thanks to Glenford, Iona, Sandra, Annette, Juel and Trevor. We appreciated their professionalism and their kindness. We were well taken care of by Glenford and found Iona's cooking to be outstanding! We look forward to coming back.
Montego Bay is considered the melting pot of cultures as it invites locals and visitors to enjoy the beauty and excitement of Jamaica together. There is something for everyone in this eclectic city, with its charming local artistry and shops, mouthwatering restaurants, exhilarating nightlife, and of course, pristine white sand beaches.
The Pavilion boasts a total vacation package on our 5-acre property that includes a pool and hot tub, a lush green yard and garden, access to the nearby resorts and golf courses, and all the things that will make you feel at home during your stay.
Local Activities
Guest Favorites

Hilton Rosehill
Waterpark
Beach
Pool
Sailing
And more

Day in Negril
Bus ride to Negril in the morning
Spend day at Margaritaville with jet skis, parasailing, and more
Head to Rick's Café (Top 10 Bar in the world) for rinks, cliff jumping, good food, and amazing scenery and sunsets

Luminous Lagoon
Take a tour and a swim in this glowing lagoon at night!

Rates
Check out our availability, current rates, and details on what's included in our villa experience.
View Rates