Amenities for
Every Need and Want
Discover comfort and luxury like never before with Jamaica Pavilion's premium villa amenities.
Swimming Pool with a Hot Tub and a View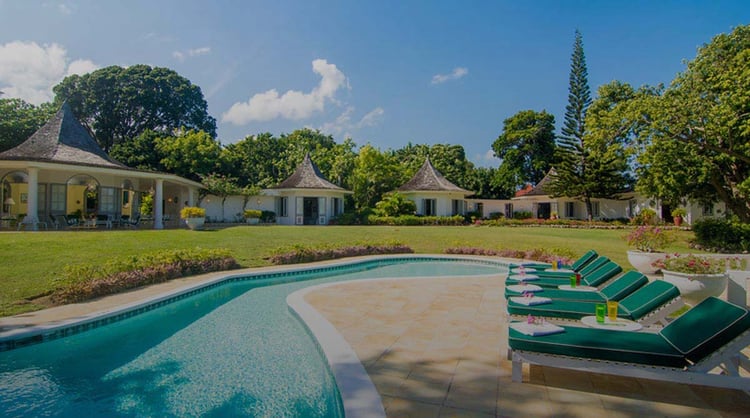 No vacation is complete without pool and hot tub! You can swim, play, or relax by the pool with a waterslide, lounge chairs, and a bamboo poolside bar where our butler serves up refreshing cocktails. Our whirlpool spa tub overlooks an incredible mountain top view of the ocean for you to relax and soak it all in.
Lush Lawn and Garden to Explore
The vibrant greenery and nature of Jamaica that surrounds our 5-acre property is the perfect space to play, explore, and enjoy stunning views. Our villa has a variety of yard games to keep everyone of all ages entertained, including croquet and spike ball.
Air Conditioning, Wi-Fi, Surround Sound, and TVs in All Rooms
Your comfort is our priority. We provide all the vacation property essentials to ensure you will want for nothing during your entire stay. This includes air conditioning throughout the entire villa, high speed Wi-Fi, premium surround system outside and inside, and TVs in all rooms. Apple TVs are also placed in every room for guests to sign in with their own Netflix, HBOGO, and other streaming services!
Villa Membership Access to All Amenities offered by the Half Moon Resort
The best part about our villa is that you enjoy all the complimentary amenities of the nearby Half Moon Resort (5 minute drive) – like tennis, golf, gyms, yoga, childcare, beaches, and more – while still having the luxury of returning to your private villa at the end of the day. The Half Moon resort is a short drive from the villa, and we have a driver who safely transports you back and forth.
Villa Membership Access to Three Championship Golf Courses
Enjoy three top rated, championship golf courses spanning across Jamaica's rolling hills to the seaside with complimentary access to the White Witch, Cinnamon Hill, and Half Moon courses. Your green fees are included leaving your carts and caddies as the only additional fees to pay for White Witch and Cinnamon Hill.
Gaming Consoles and Board Games for Entertainment
Keep the whole family entertained with gaming consoles, like the Xbox and Wii, and board games. Perfect for when you're looking for a way to spend some down time or want to keep the kids busy while the adults share an evening drink.
Daily Laundry, Meals, Driving, and Cleaning Services
Our dedicated staff are there to cater to your every need. We have a personal chef who creates mouthwatering meals for breakfast, lunch, and dinner – most guests say her food is better than any restaurant they've ever been! Along with our chef, we have a butler to tend to your needs, a laundress and housemaid that keep your clothes and living spaces spotless, a driver that takes you to and from where you want to go safely, and a groundskeeper that looks after the local flora of the property.

Rates
Check out our availability, current rates, and details on what's included in our villa experience.
View Rates
Learn About
More villa experiences
It doesn't get much better than life at the villa. Explore all that Jamaica Pavilion has to offer you during your stay with us.